Inside 608 Main Street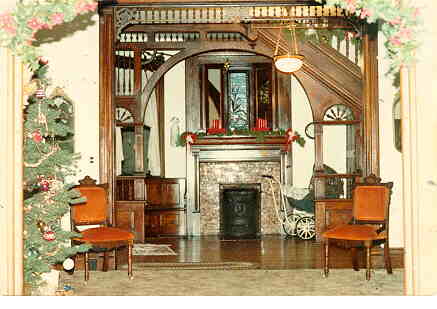 This is the entrance foyer at Christmas time. The front doors are to the left. The chimney bifurcates and goes around the Tiffany window, and then rejoins as separate flues. All the woodwork is quarter sawn oak. The photo was taken from the music room arch, looking through the living room (with the Christmas tree) and into the entrance foyer.
| | |
| --- | --- |
| | The fireplace and mantel area is to the side of the parlor. Directly in front of the fireplace is an Italian ceramic floor. Ceramic bricks surround the fireplace opening. The cover is bronze, and looks black from age. One of these days we are going to polish it to it's original luster. |
| | |
| --- | --- |
| The Master staircase is 4 feet wide. | |
| All the oak paneling is inset panels and mitered frame | |
| | |
| --- | --- |
| | This is a view from the entrance hall through the living room. Through the arch is the Music room. |
| | |
| --- | --- |
| This is a view of the solarium in the southeast corner of the first floor. The doors lead out to the gazebo end of the rear porch. The whirlpool creates enough humidity to keep the plants healthy. They get sun from east, south and west windows. It's almost like a greenhouse year round. | |
Go back to exterior views.
Go back to Virtual tour page
Go to Smith's home page
Go to Pecweb